Nancy's counseling practice is based on the belief that you have all the answers inside you. The answers may be hidden and buried away, or perhaps feel unsafe to express.
During counseling, Nancy teaches you how to listen to your wisdom, nurture and trust your answers, and act on what you know - and in doing so, discovering your true self.
Learn more about Nancy's counseling: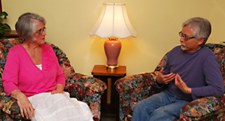 Nancy believes that an important element of effective counseling is teaching clients skills and techniques to change unsuccessful life patterns and replace them with new, healthy behaviors.